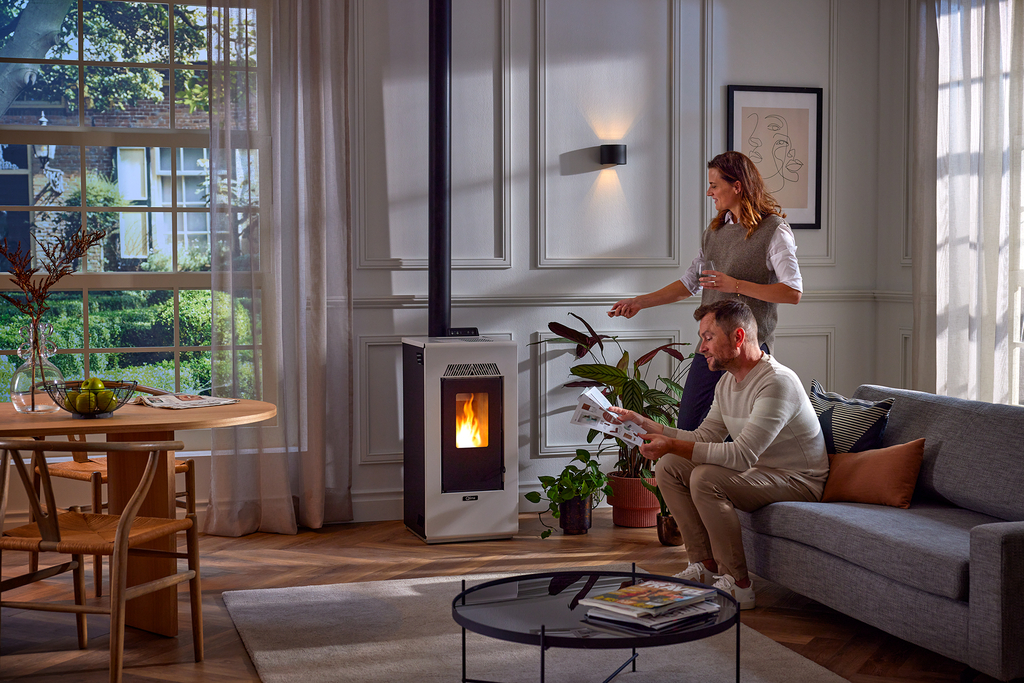 Pellet stove
Fiorina 78 S-Line

Pellet stove

Comfortable heat

Adjustable temperature Daytimer
Pellet stove Fiorina 78 S-Line white/black
The Qlima Fiorina 78 S-line pellet stove has a maximum heating capacity of 7.92 kW, enabling it to heat a volume of 90 m². It has a rear and top flue.
Pellet stove
Comfortable heat
Adjustable temperature
Daytimer
Find a store
Description
Its sober, elegant look will blend in perfectly with your interior, whether it's modern or more traditional. Save on heating costs Qlima wood pellet stoves automatically adapt their heating power according to the temperature of the room, so that the desired temperature is reached efficiently. This natural, environmentally-friendly heating method saves energy.
All benefits
Pellet stove
Comfortable heat
Adjustable temperature
Daytimer
Energy saving mode
Adjustable fan speed
Remote control
Backside flue gas outlet
Specifications
Product Name Pellet stove Fiorina 78 S-Line white/black
EAN code 8713508782553
Model Fiorina 78 S-Line
Colour White
Product type Pellet stove
Weight - unit 68
Dimensions (w x d x h) 430 x 460 x 910
Energy class A+
Included - remote control Yes
Autonomy (max.) 19.5
Heating capacity steps 2 (3520 / 7920 W)
Energy efficiency class A+
Heating capacity (max.) 7.92
Carrying handle No
Heating capacity (min.) 3.52
Fuel compatibility 6x30mm pellet
Ductable not ductable
Hermetically sealed No
Hopper capacity² 15
Efficiency nominal 90.62
Efficiency reduced 94.39
Heating input - nominal 10.26
Heating input - reduced 3.72
Capacity igniter 280
Diameter exhaust 80
Exhaust location back, top
Flue gas temperature nominal (max.) 162
Flue gas temperature reduced (max.) 79
Can be used in combined flue system No
Battery quantity 1
ADR Not subject to ADR (because of high flashpoint)
Aromatics before fiscal dye (Spec.) 0.3
Heating capacity (max.) - in Watt 7920
Heating capacity (min.) - in Watt 3520
Flashpoint (Typ.) 65
Fluid type Dearomatised mineral oil
Amount of air ducts 0
For rooms up to 106 - 225
For areas up to 42 - 90
Manuals and documentation
EU Declaration of performance (DoP) (1)
Features and Benefits
Pellet stove

Comfortable heat

Adjustable temperature

Daytimer

Energy saving mode

Adjustable fan speed